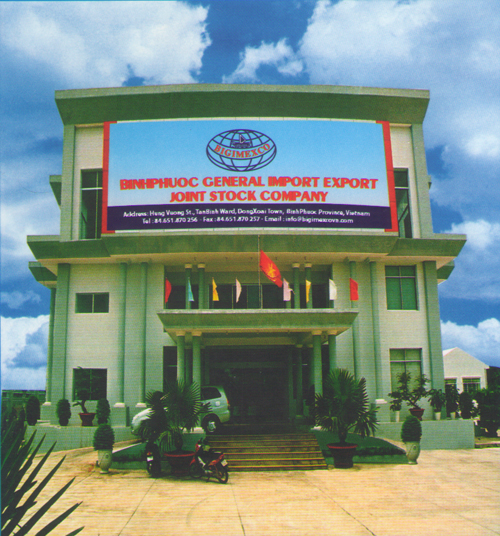 Binh Phuoc General Import Export Joint Stock Company (BIGIMEXCO) was established in 1997 as 100% state own company and have been changed into Joint Stock company since January, 2006 with 30% capital from the government and the balance from the stock holders (factories). Since 2009 the goverment share has been transferred to other private stock holders.

Our main products are Natural Rubber , Native Tapioca Starch, Furniture. We have experienced for more than 20 years on the business. Besides, we have one factory for Latex Male Condom jointed venture with Korean and Brasillian partners with 04 dipping lines.

We have total 06 factories producing Tapioca starch with full capacity of 15,000mts monthly and 10 factories producing all kind of Natural Rubber with full capacity of 10,000mts monthly. All of our factories are located inside the material areas; therefore the size of each factory is medium in order to secure the material source.

Our major markets are China, Taiwan, Philippines, Russia, Malaysia, Singapore, Japan, Turkey, Europe, South America, Africa ....

Our turnover in 2012 was US$240,000,000 and we have plan for U$260,000,000 this year.

Our head office is located in Binh Phuoc Province and we have one liasion office in Hochiminh city. We have 150 official staffs and about more1,500 workers in all the factories.
We always appreciate all of global buyers corporation during the time and always aim to an stronger business relationships.


Binh Phuoc General Import Export Joint Stock Company
Add: Hung Vuong Str., Tan Binh Ward, Dong Xoai Town, Binh Phuoc Province, Vietnam
Branch office:
A15-16 Khu Nhà Liên Kế, Chung Cư Thái An, 1/45 Nguyễn Văn Quá, P. Đông Hưng Thuận, Quận 12, TP. HCM, Việt Nam

Website:
www.bigimexcovn.com

Email:
info@bigimexcovn.com
,
huongly@bigimexcovn.com

Tel: 84.8.37190 399 - 37191 583
Fax: 84.8.37190 419 - 37190 400